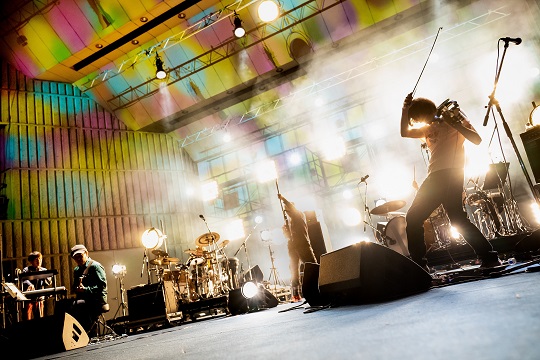 ROVO
Formed on 1996.
Gathering of top Japanese musicians and leading the Japanese dance music scene by the band sounds from the beginning. Members are one of top electric violinist Yuji Katsui, ex guitarist of Boredoms Seiichi Yamamoto, world wide drummer even in jazz scene Yasuhiro Yoshigaki, playing percussions in a lot of music genre Yoichi Okabe, controlling the band groove, bassist Jin Harada, Tatsuki Masuko is the synthesizer player and also recording & mastering engineer.
In Japan headlining Fuji Rock and other big festivals and promoting their own festival "Man Drive Trance Festival", this festival is 11th anniversary and every year about 3000 people has been going wild.
For overseas, they have done U.S.A. tour on 2001, Mores Festival in German and EU (Netherlands and Belgium), and U.S.A. tour on 2004, Era New Horizon Festival in Poland on 2006.
And then on 2011, they started collaboration project "Phoenix Rising" with System7. Released collaboration EP and touring together, and got huge success in Japan.
On 2013 they released world wide full album "Phoenix Rising LP" under the name of ROVO and System7. And did Asian tour in Japan and Taiwan, they made legendary fantastic moments.